Oh, What A Night!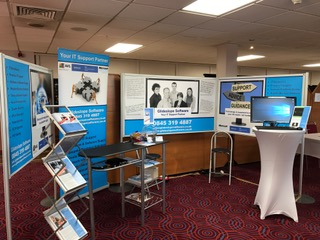 The business expo season is now in full swing and we have already exhibited at The Big Bury Expo hosted by The Best Of Bury and The Big Bolton Expo hosted by The Best Of Bolton, both being fantastic events we wanted to share some of our experiences.
Located at the Bridge Conference centre in the heart of Bolton. The Big Bolton Expo showcased an array of businesses from accountants to recruitment through to a bespoke wine dealer and a pet bereavement counsellor. It was great to see such a range of businesses coming together and helping each other with new opportunities, advice, and referrals.
The event also had a terrific speed networking segment. This consisted of 20 attendees split in half sitting across from one another and after two minutes of 'speed networking' the attendees from the left side move up until everyone has met.
Speed networking is a fun, exciting and effective way to make a lot of connections. I would definitely recommend giving it a go… I promise it's not as scary as you may think!
Things to remember when exhibiting at an Expo:
Fail to prepare is preparing to fail. Always make sure you are fully prepared with equipment, advertising collateral and someone with good knowledge of the organisation to man the stand.
Always follow-up! Once you've gained a lead at an Exhibition make sure you turn it in to a sale by following up quickly and appropriately.
And most importantly smile and be friendly no matter what.
Want to find out more information about Smarter Technologies? Why not read more of our blogs by clicking here.