We can help you to ensure that your organisation complies with health and safety legislation, and insurance requirements by carrying out portable appliance testing (PAT testing). PAT testing is essential for the safety of your employees, the public and your organisation. Our electrical safety tests are carried out to the standards set out in the IEE Code of Practice for In-service Inspection and Testing of Electrical Equipment and HSE guidelines. All our technicians attend re-training courses every year and our test equipment is re-certified annually, to ensure that they meet the requirements of the code of practice.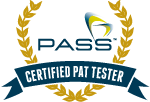 Our technicians have many years of experience in PAT testing to ensure that your tests are completed safely and accurately. Every plug is opened and inspected: checking for the correct wiring, that all terminals are secured and that the correct fuse type is fitted. All appliances are then tested with calibrated test equipment. Upon completion you will be promptly provided with a certificate and detailed test results for all of the appliances that have been tested.
In addition to PAT testing we also provide microwave leakage testing. Microwave radiation is both odourless and invisible. Leakage can be caused by slamming the oven door, leaving food particles in the hinges or seals and moving the oven around. We use advanced microwave leakage meters for your safety and peace of mind and carry out the microwave leakage testing at the same time as the PAT testing of your microwave oven.
If you would like more information about our PAT testing services please get in touch using our contact form or give us a call on 0345 319 4887*.
* Calls will cost 5p per minute plus your phone company's access charge.